These ornaments are call "hidden treasures", which is a totally appropriate name for the ornaments. Seeing them hanging on the Christmas tree, really is like discovering a hidden treasure! They are lovely little trinkets nestled away in the boughs of the trees.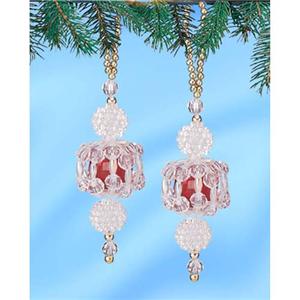 I'm sorry, but this item is currently sold out!
I really do enjoy making my own Christmas ornaments, but more than that, I enjoy giving them to my friends and family. When I make a gift for someone, it is sharing a part of myself and it is extremely rewarding to know that they treasure the gift.
These particular ornaments are fairly easy to make and the kit includes everything you need to make 8 ornaments, which means there could be several gifts taken care of in one kit. Of course, you may choose to make the whole set for one recipient and what a wonderful treasure they would receive.
Beautiful handmade gifts loving made that will adorn the tree for decades to come. I will warn you though, you will be quite tempted to keep the Hidden Treasure Ornaments for yourself.
Buy the Featured Beaded Ornaments Kit: Hidden Treasures Beaded Ornaments Set Kit
Note: The author may receive a commission from purchases made using links found in this article. "As an Amazon Associate I earn from qualifying purchases."