Few things will melt hearts as easily as this adorable
Snowman & Friends Cross Stitch Kit
. Surrounded by his friends, the snowman appears to be delightfully happy. Apparently, his "creators" prepared him properly to entertain guests by supplying him with birdseed, nuts, and corn, and building him right next to a holly bush.
What a charming picture this snowman makes as he "treats" the birds, squirrel, and chipmunk, as well as the children who are watching from the window in the background.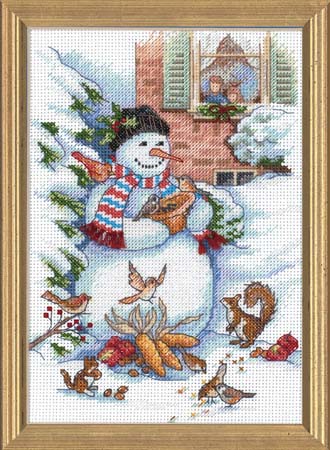 Holiday love and the spirit of giving are certainly reflected in this cross stitch picture. You can share that love too by stitching the picture and giving it as a gift. Or, perhaps, you would rather keep it for yourself and share the moments of seeing the eyes of your loved ones as they take in the beauty and the meaning of this fabulous image.
Whichever you choose, I am certain this snowman and his friends will delight many hearts during the holidays.
The Snowman & Friends Cross Stitch kit includes 18-ct. white aida fabric, cotton floss, needle, and easy instructions.
---
Buy today's featured kit: SNOWMAN & FRIENDS Birds Picture Cross Stitch Kit ~ NEW
Note: The author may receive a commission from purchases made using links found in this article. "As an Amazon Associate I earn from qualifying purchases."