Add beauty and elegance to your Christmas decor with this gorgeous Christmas by Candlelight embroidered table topper. Set the mood for your own candlelight dinner for two, or place this lovely table topper in the center of your dining room table. It would add a beautiful touch of the holidays to your buffet or end table as well.
This table topper measures 36" and could be used laying flat on a larger table or draping a small table.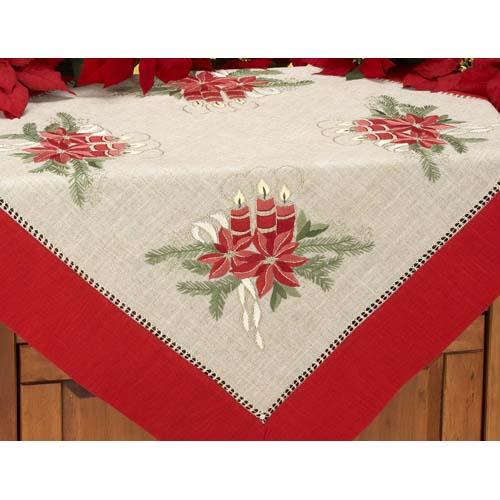 I'm Sorry!
The Christmas by Candlelight Topper is Currently Sold Out
The table topper kit comes with a pre-made table topper that is stamped for embroidery. As you can see in the photo, it has an incredibly beautiful finished edge with just the right about of detail to give the perfect balance for the candles and poinsettias.
The Practical Use of a Holiday Table Topper
The beauty of a table topper is not only in the design, but also with it's practical use. Table toppers are not just a Christmas decoration, they also help cut down on necessary cleaning during the holidays. If you cover a table with a table topper, there is no need to dust that table. The dust, itself, will not show as much on a table topper as it does on a piece of wood. What dust does collect on your table topper can be easily removed by simply shaking the table topper off outside.
It would not be necessary to set anything on this fabulous table topper. It is perfect alone, but also has the open center area to display a centerpiece if desired.
The Christmas by Candlelight Table Topper Embroidery Kit
The embroidery kit comes with the stamped table topper, cotton floss, needle and instructions to make it easy for you to sit down and embroider this masterpiece of elegance.
You may be inclined to give the Christmas by Candlelight table topper as a gift once you have finished it, but I would be very hard pressed to give it away myself. Of course, I wouldn't mind being on your gift list if you plan to embroider it and give it as a gift.
---
NOTE: I

'

m sorry, but this item is currently sold out! Please visit the House of Sylvestermouse eBay Store to View Available Embroidery Kits.
---
Buy today's featured kit: Christmas by Candlelight Table Topper Embroidery Kit ~ New
Note: The author may receive a commission from purchases made using links found in this article. "As an Amazon Associate I earn from qualifying purchases."