Handmade gifts are some of my favorite gifts to give and to receive for Christmas. When I am ready to select my Christmas crafts each year, the kits to make gorgeous beaded ornaments are always the first to come to mind. Not only are they fabulous gifts today, but they become beautiful heirlooms tomorrow.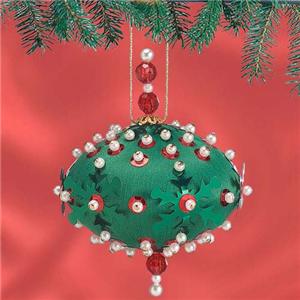 This great Christmas decoration kit contains everything (except the glue) you need to make twelve gorgeous Snowflake Carousel beaded sequin ornaments. You can get this kit to make for yourself from this Christmas Craft Kit Store, or you could purchase the kit to give as a gift to a crafter you know. These elegant handmade decorations will add shimmer and sparkle to your Christmas tree for many years to come.
If you love ornament kits, but need more information on how to make them, I have personally published an article all about How to Make Beaded Christmas Ornament Kits where you will find tips and step by step instructions with lots of photos featuring this Snowflake Carousel Ornament kit.

Remember, it's never too early to start working on your Christmas craft kits..
Note: The author may receive a commission from purchases made using links found in this article. "As an Amazon Associate I earn from qualifying purchases."